On Location with Spike TV's "Bar Rescue:" J.A. Murphy's in Fells Point, Maryland.
As "Bar Rescue's" culinary producer, I'm fortunate to have a unique perspective on the behind-the-scenes process of making the television show AND the bar a success. I work very closely with Jon Taffer and our experts to resuscitate the bar and food programs, including menu development, design, and installation of equipment. Now in our second season, I'm thrilled to continue as part of Jon's elite team and eager to share the exclusive inside scoop with you!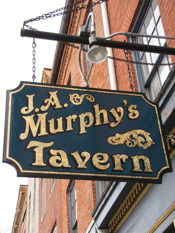 "People are eating mouse s#@t!"- Chef Brian Duffy during kitchen walkthrough
J.A. Murphy's is located in the heart of historic Fells Point MD, a fun and thriving area on the water with loads of foot traffic. In 2009, college frat buddies Keith Murphy and Joel Gallant carried out an impulse to partner in opening a bar— after pulling a drunken all- nighter.
Despite having no experience, J.A. Murphy's was oddly successful at first, raking in $12,000 weekly sales. The ironic achievement was attributed to Murphy's manager Marka, who facilitated the constant flow of regulars and profitable margins. To add to the drama, partner Joel butts heads with everyone and his abrasive attitude forced manager Marka to quit. In retaliation, the smart-cookie launched her own competitive bar right around the corner. This overture is a sore spot with Joel, to be sure.
With fewer customers, mounting business costs, and money lost on cheap shots, J.A. Murphy's is now losing $5,000 each week and Keith and Joel are deep in debt.
Only two months away from closing Murphy's doors for good, Keith and Joel have made a call for help to Jon Taffer, host and executive producer of "Bar Rescue" and NCB Media Group President.

J.A. Murphy's was the most dilapidated, vile bar we ever encountered–-—raw chicken being mishandled, severe water damage, sewage, and toxic mold are just the highlights! Honestly, it's a miracle this space was not condemned.
Facing a filthy bar and an inexperienced staff, Jon calls in reinforcements. He brings in award-winning flair mixologist Chris Cardone and chef Brian Duffy to overhaul the grody kitchen and create an approachable menu.
Chef Duffy goes through the kitchen and finds way more neglect than he bargained for: a ton of grease under the range hood, a dead rat behind a water heater, and rodent droppings in food containers. Jon brings Keith and Joel in and takes them to task for allowing these unsanitary conditions.
Meanwhile, Chris Cardone evaluates the cleanliness of the bar and discovers dead maggots residing under the bar mats. He reams the staff for being lazy on shifts and not doing general cleanup.
Chris then takes the bartenders to the keg cooler. He finds the fridge temperature is a good 20-degrees above what it should be! Upon cutting open one of the tap lines, Chris discovers grimy sentiment settling at the bottom of the disgustingly warm beer. This place is gross at every turn.
Jon, Chris, and Duffy decide that J.A Murphy's is so incredibly filthy, they can't even conduct training until the staff does a deep clean. They show the staff how to sanitize and where, setting them up for a big day of training and then the RELAUNCH!
I can't give away much more than that, but tune into Spike TV this summer to see the drama of turning around a failing bar business… in 72 hours and how Jon Taffer's rescue panned out. Be sure to check out nightclub.com for exclusive coverage of each episode.