books
JoAnn Cianciulli is the author of L.A.'s Original Farmers Market Cookbook, Lemonade, and the Master Chef Cookbook! These and her other titles are available at bookstores near you or online at amazon.com or barnesandnoble.com.
Cookbooks
The Lemonade Cookbook: Southern California Comfort Food From L.A's Favorite Modern Cafeteria (St. Martin's Press, 2014)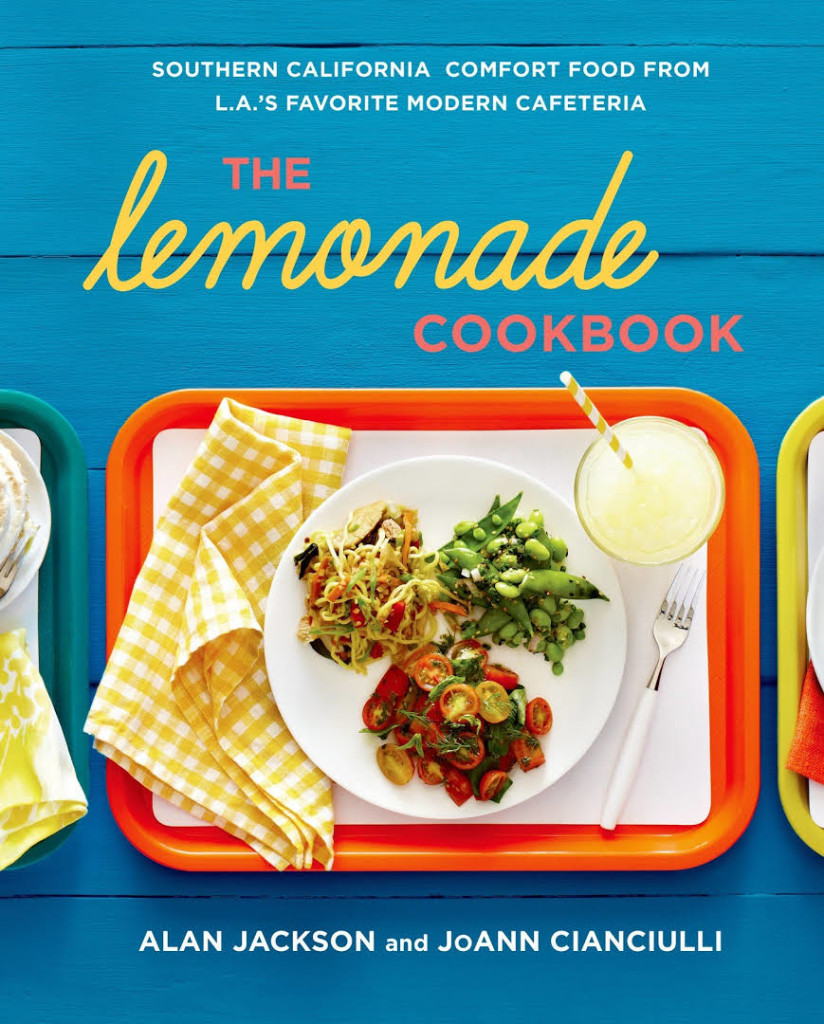 The Lemonade Cookbook showcases the beloved restaurant's signature seasonal California comfort food and packages it in this contemporary, beautifully photographed book. Filled with over 100 delicious recipes, founder/chef Alan Jackson and Lemonade's Director of Marketing, JoAnn Cianciulli, bring the food to life for fans that want to recreate their favorite dishes at home, and for cooks everywhere who crave vegetable-driven, imaginative meals that make Lemonade restaurant a beloved California favorite.
Recipes include: Snap Pea and Edamame Salad with Sesame, Farro and Spaghetti Squash with Pomegranate Vinaigrette, and BBQ Brisket.
The Recipe Rehab Cookbook: 80 Recipes That Slash the Fat, Not the Flavor (HarperWave, 2012)
First it was a hit YouTube web series, then it was elevated to become a popular TV show; and now, Recipe Rehab is finally a cookbook! Co-Executive Producer and celebrated cookbook author JoAnn Cianciulli, along with TV chefs such as Spike Mendelsohn, Candice Kumai, and Aida Mollenkamp, share 80 family classics slimmed down for today's lifestyle.
Recipes include: Pumpkin Pancakes with Spiced Apples, Makeover Mac N' Cheese, Crispy Beef Tacos, and Lighter Lemon Bars.
The Master Chef Cookbook (Rodale, 2010)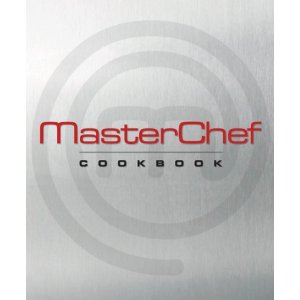 Step into the Master Chef kitchen! In the nationwide search for America's best amateur chef, thousands of home cooks put their heart on the plate for a chance to become the country's first ever Master Chef. With no professional experience, the series gives budding foodies the ultimate once-in-a-lifetime opportunity to develop their cooking skills and to be mentored by the best in the business—chefs Gordon Ramsay and Graham Elliot Bowles, and restaurateur-winemaker Joe Bastianich.
Supervising Producer and cookbook author, JoAnn Cianciulli, gives hungry readers the behind-the-scenes scoop of the contestants and the high-octane challenges they faced in this companion book. Always wanted to master the basic skills that define any great chef? Cianciulli shares a smattering of information about how to equip a cook's kitchen, build a perfect pantry, and discover an exciting array of ingredients that will inspire new creations. Packed with top tips and chefs' secrets, this essential kitchen reference offers more than 80 savory, sweet, and scrumptious recipes that prove some of the nation's most delicious food comes from its most humble kitchens.
Recipes include: New England–Style Bouillabaisse, Leg of Lamb with Fennel Risotto, Fresh Fettuccine with Mushroom Cream Sauce, and Bittersweet Chocolate Soufflé.
LA's Original Farmers Market Cookbook (Chronicle Books, 2009)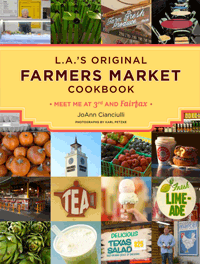 Selected by Serious Eats as one of the Top 10 Best Cookbooks of 2009! Located at the corner of 3rd Street and Fairfax Avenue since 1934, L.A.'s oldest outdoor market has grown from a cluster of farm stalls selling local produce into a renowned dining paradise. Combining nostalgic charm for natives and tourists alike, L.A.'s Original Farmers Market Cookbook: Meet Me at 3rd & Fairfax celebrates the food, people, and history of this Los Angeles landmark.
JoAnn Cianciulli's book is a richly textured tribute to one of California's most beloved culinary destinations. To capture the spirit and reflect the personality of the Market, Cianciulli shares the enchanting stories and delicious food from the people behind the counters. Cianciulli's affection for the people and place shines throughout and beautifully captures what a special and magical haven Farmers Market is. The New York transplant spent a year interviewing the many faces of the Market, from the colorful vendors, to the food sellers and grocers. The result is a lively and appealing work filled with Hollywood lure and cuisine from every corner of the world. Featuring more than 75 signature recipes inspired by the Market, this book offers something for everyone. With vivid photographs by award-winning photographer Karl Petzke and rare archival images, L.A.'s Original Farmers Market Cookbook is a timeless treasure that invites readers to walk down memory lane and take home the bacon, all at the same time. For anyone who's ever visited L.A.'s famous Farmers Market, this beautiful book is a necessity.
Recipes include: Chilaquiles Verdes from ¡Lotería! Grill, Steak Frites from Monsieur Marcel, Seafood Gumbo from Gumbo Pot, and all American Chicken Pot Pie from Du-par's.
Michael's Genuine Food: Down-to-Earth Cooking for People Who Love to Eat (Clarkson Potter, 2011)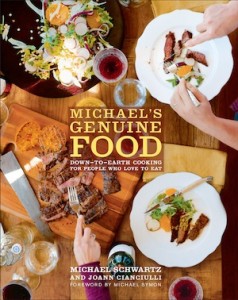 Michael Schwartz, a James Beard Award winner and chef-owner of Michael's Genuine Food & Drink in Miami, and best-selling cookbook author JoAnn Cianciulli, have released Michael's Genuine Food: Down-to-Earth Cooking for People Who Love to Eat. The cookbook is loaded with practical and realistic recipes structured with the contemporary American home cook in mind. From a nosh to a multi-course feast, the dishes provide delicious choices for gatherings or everyday eats. Food is not about impressing people; it's about making them feel more comfortable, and the recipes in this cookbook reflect that love and authenticity.
With playful prose, Michael's Genuine Food is committed to demystifying cooking, by putting the fun back in and taking the pretension out. Known for her instructive recipe style, JoAnn walks the reader through it with detail and flagging potential pitfalls. The best cookbooks teach us the why behind the how to cook, not just to follow instructions. JoAnn's extra-tender details are intended to help build confidence and create a comfortable feeling of the recipe. Michael's Genuine Food is the cookbook for real people who like to eat and drink and gather with friends and family over delicious food. It's all good!
Recipes include: Crispy Polenta Fries with Spicy Ketchup, Stout-Braised Clams with Fennel and Bacon, Roasted Pork Shoulder with Cheese Grits, Pickled Onion, and Parsley Sauce, and Mango Upside-Down Cake with Basil Ice Cream.
Michael Mina: The Cookbook (Bulfinch Press, 2007)
Named Bon Appétit Chef of the Year 2005 and Best Chef in California by the prestigious James Beard Foundation in 2002, world-class chef Michael Mina has dazzled critics and diners with his ingredient-driven creativity and exquisite presentation. Michael Mina: The Cookbook is the long awaited book debut from one of the country's most influential chefs.
Mina teams up with acclaimed food writer JoAnn Cianciulli to bring his unique trio concept to the home kitchen – where a master recipe is supported by three flavor variations anchored by a few key ingredients. Lucky for home cooks, each component is flavorful enough to serve as an individual recipe, all written with clear, straightforward directions that anyone – gourmet and competent cook alike – can easily follow. Accompanying the seasonal trios are Mina's classic and most-requested dishes from his award-winning restaurants. Winner of Best Cookbook Photography by James Beard Foundation, Karl Petzke's stunning photos illustrate the beauty and elegance of Mina's adventurous creations.
Recipes include: Butter-Poached Kobe Beef Rib Eye with Pinot Noir Reduction Trio, Sesame-Crusted Soft Shell Crab Trio, Lobster Pot Pie, and Root Beer Float with Warm Chocolate Chip Cookies.
The Lever House Cookbook (Clarkson Potter, 2006)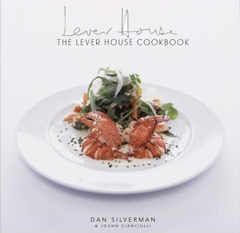 Located in one of New York's most architecturally significant buildings (it was originally erected in 1952 as the new headquarters for the Lever Brothers soap company), Lever House restaurant made a splash when it opened in 2003, both for its spare, space-age design and for the simple brilliance of chef Dan Silverman's luxurious yet direct menu. The Lever House Cookbook highlights the architectural elements of the famous all-glass skyscraper plus more than 100 seasonal recipes.
This isn't everyday cooking but neither is it particularly fussy or complicated to do, thanks largely to recipe clarity. With meticulous instructions by seasoned co-author JoAnn Cianciulli, the book makes a good case for the well-crafted chef's cookbook offering delicious, unaffected fare. Marrying cutting-edge design with modern American recipes, the cookbook is a monument to both architectural style and fresh sophisticated cuisine.
Recipes include: Slow-Roasted Salmon Salad with Lemon Crème Fraîche Dressing, Braised Pork Belly, Lobster Tempura with Tartar Sauce, and Roasted Leg of Lamb Sandwich.
Tyler Florence's Real Kitchen (Clarkson Potter, 2004)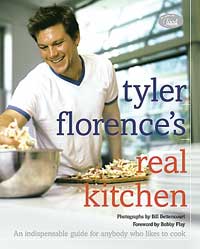 In his debut cookbook, Tyler Florence collaborates with his longtime Food 911 producer, JoAnn Cianciulli to show how easy it is to create food that's fresh, flavorful, and totally doable. Like the charismatic Food Network star, the recipes are bold, unfussy, irresistible, and real. Tyler Florence's Real Kitchen, shows how to cook simple meals that taste amazing, from comfort-food, to classics, to vibrantly new dishes. The chapters are cleverly organized by occasion, from intimate meals for two to casual dinners for friends, to brunches and outdoor bashes for a crowd. With helpful notes on essential pantry staples and a list of the kitchen equipment you really need, this book is a fresh, creative exploration of just how fun and delicious cooking can be.
Recipes include: Prosciutto-Wrapped Figs, Osso Buco with Gremolata, Cold Fried Chicken, and Blueberry Scones with Lemon Glaze.
La Comida del Barrio: Latin-American Cooking in the USA (Clarkson Potter, 2003)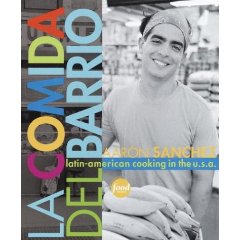 In this groundbreaking cookbook, Food Network chef Aarón Sanchez explores the delicious food and exciting culture of the barrios—the vibrant Latin-American neighborhoods from Miami's Little Havana and New York's Spanish Harlem to San Francisco's Mission, and the entire United States in between. La Comida del Barrio is a celebration of that cuisine: not hypercreative chef-y inventions, but the comforting, delicious food that's enjoyed in home kitchens and mom-and-pop restaurants across the country. Co-writer JoAnn Cianciulli was immediately intrigued by the vast and diverse Latin-American culture and joined forces with Sanchez to reflect the heritage and contemporary tastes of Latinos living in the U.S.
Recipes include: Gorditas, Chiles en Nogada, Birria, and Tres Leche Cake.